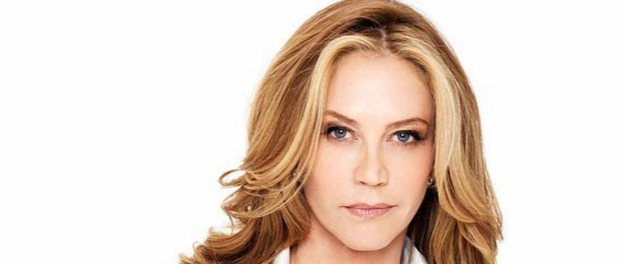 Ally Walker was born in Tullahoma, Tennessee on August 25th, 1961. She grew up in Santa Fe, New Mexico before moving to Santa Cruz to study Biology and Chemistry at the University of California. During her studies she spent a semester in London at the Richmond College of the Arts. Here she garnered a taste for theater but it did not deter her from completing her degree or pursuing a career in genetic engineering. Her career path changed when she was discovered in an L.A. restaurant and cast in her first role, Aloha Summer (1988) although her scene was not used in the final version.
Since 1988, Ally Walker has had a long career in both TV and film. She started out on daytime TV as Andrea Bedford in Santa Barbara. Later that year she took on the role of Officer Jessica Haley on prime-time crime series True Blue which was highly rated though it only ran for one season. Between 1990-1992 Ally Walker guest-starred in several TV series and a television movie.
In 1992, Ally Walker starred in the lead female role Veronica Roberts in Universal Soldier alongside Jean-Claude Van Damme. After this she appeared in several films, most notably as Special Investigator in Audrey Macleah in When The Bough Breaks (1994) alongside Martin Sheen and Ron Perlman.
As well as success in lead roles in film, Ally Walker starred in TV Series Profiler (1996) for which she received a nomination for Best Genre TV Actress (Saturn Award) in 1998 and a nomination for Best Actress in a Series (Golden Satellite Award) also in 1998.
Ally Walker married John Landgraf on June 14, 1997 who was a producer for NBC. They married at her parents' home in Santa Fe. Ally Walker and John Landgraf live in Santa Monica with their three sons and dogs.
After a break from TV and film, Ally Walker returned to the small screens guest starring in several shows before taking on the role of Katie in Tell Me You Love Me (2007). The show only ran for one season but it won an award for TV Program of the Year (AFI Awards) in 2008. She then moved onto star as Agent June Stahl in Sons of Anarchy between 2008-2010 and then as Gloria Sheppard in The Protector in 2011.
Ally Walker continues to work in both TV and film. Most recently, she has appeared in well received TV Series Colony in 2016 as Helena and in Longmire as Dr. Donna Sue Monaghan in 2015-2016. She is also top-billed in film The Magnificent Room due out in September 2017.