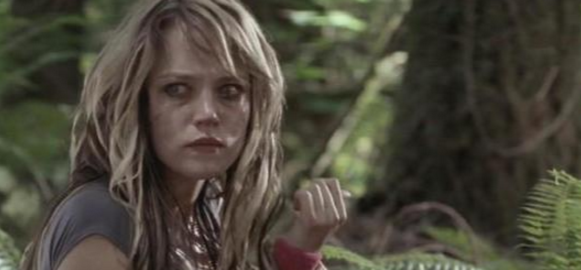 Erica Leerhsen, playing Kim in Mischief Night, has been an actress since the early 2000's, when she starred in a short called Junior Creative. However, Leerhsen is better known for her work in Book of Shadows: Blair Witch 2 (2000), The Texas Chainsaw Massacre (2003), and Wrong Turn 2: Dead End (2007).
Leerhsen was born in New York City on Valentine's Day in 1976 to Barbara and Charles Leerhsen, who was an editor of celebrity publication US Magazine. Leerhsen also has two siblings named Nora and Debbie who joined her at St. Augustine's School and Ossining High School, where Leerhsen was in choir, and graduated with a B.F.A in acting from Boston University College of Fine Arts in 1998.
After graduation, Leerhsen's first gig was playing as Sarah in Junior Creative,and it was during its production that Leerhsen got a leading part in The Blair Witch sequel. After this, she appeared in a number of television series with small parts, like her part in The Sopranos (1999), The Guardian (2001), Hollywood Ending (2002), Alias (2001), and Ghost Whisperer (2005). She even made an appearance on CSI: Miami in 2006.
She was also given the title of "Arrow in The Head's Mistress of the Year" for 2003, and was also voted #96 in 2001's Maxim Hot 100.
While landing the leading role in the sequel to Wrong Turn she shot Living Hell (2008), and starred in an independent Thriller film titled Haunted Traxxs (2009). Leerhsen has also been in, First Dates (2010), The Butterfly Room (2012), The Message (2012), Phobia (2013), Mischief Night (2013), and Magic in the Moonlight (2014). Deciding to no longer look for dark and sinister roles, Leerhsen has started to look into roles that have a lighter feel to them. Leerhsen has even said, "It's weird because I always seem to be dead. I'm gonna have to change that because I wouldn't want to be typecast."
Leerhesen was married to Antony Galvan, a former cyclist, between February 2007 – 2008. But she is currently wed to David Wilson, having tied the knot June 29, 2012. They currently live together in Los Angeles.