A zombie wedding ceremony is one of the best ways for a horror loving couple to tie the knot. It could be and amazing way for the you and your significant other to express your love for each other, and your love for all things creepy. However a wedding as original as this will take a lot of planning to make sure the big day goes off without a hitch.
First there is the challenge of finding a venue suitable for the wedding to take place. Some places to consider would be: a cemetery, an abandoned motel or a spooky club. A cemetery is probably one of the best places to hold a zombie wedding, given its purpose of housing the dead, but you should contact the caretaker and schedule to say your "I do's" around burials. If it is impossible to schedule around them then just remember to be respectful as cemetery aren't usually used as wedding venues. An abandoned motel is another great option, but keep in mind that not all abandoned buildings are a safe place. You may want to hire an inspector to make sure that the building will not put you or any of your guests in danger. A spooky club is likely the safest of the three, and can look just as frightening as any of the other options. An advantage of the club is it is already prepared to host dancing and dining.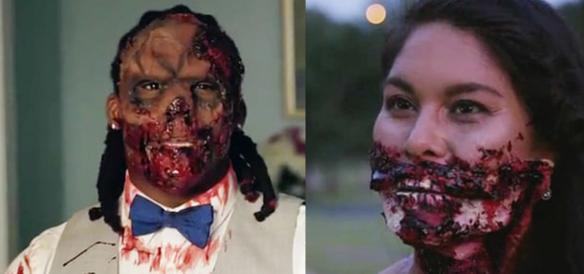 There is also the challenge of making the wedding look like an authentic zombie invasion. Your clothing would most likely be tattered and bloodied, so you may want to consider buying second hand to save money on the clothes you are going to destroy. Hair should be wild and messy, and makeup should give you the appearance of being one of the undead. A professional could do the job but local salons could too. Stylists there may be very interested in the theme, and helping you look the part. Food is an integral part of any wedding, and a zombie wedding is no exception. You may want to find a caterer who will serve food that suits your theme or if you don't maybe you would like the regular dishes then you might prefer a zombie themed cake. This can be done by having a white wedding cake topped with an oozing marzipan brain.
The third challenge that can go along with planning a zombie themed wedding is inviting guests. You should consider the fact that some people may not want to go to a zombie themed wedding. Some may find it too disturbing, or to scary to attend. Don't be discouraged though, there are many people who would enjoy seeing something different at your wedding. Also note that if people in your family have small children you may want to inform them to leave their children at home, as the theme may be too scary for them. If you want your guests to join in on the fun, and join you and your wedding party in dressing up like zombies then include it on their invitation. That should give them enough time to find some zombie attire suited for your big day.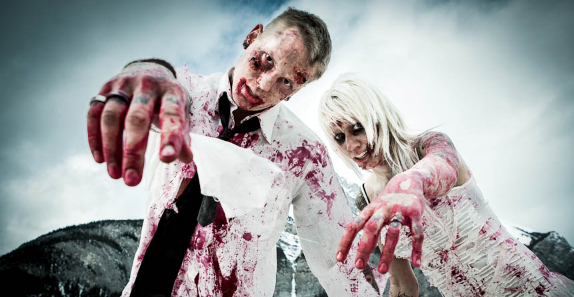 Though a zombie wedding may seem like a lot of work to plan it really is worth it if you're a true horror fan who doesn't mind a little gore, even on your wedding day. In the end is it really that much harder than planning a normal wedding? If you think not then maybe a zombie themed wedding is the perfect way for you and the love of your life to tie the knot.